KLANGMOBILÉ
The Kangmobilé spreads a magical atmosphere through its long-lasting, declining and decaying tones. The wind blows into the sail and thereby beats a clapper against the sound tubes. At the same time it blows into the sails of the horizontally suspended resonators and makes them commute. The coming and going resonance produces in gentle, undulating rhythms a loud and quiet becoming of the notes. Sound tubes, resonators and sails are made of copper, clapper and hangers from iron. They are built in different sizes, designs and sound sequences and are also available as single tones.
The metal surfaces are untreated. Therefore, it can come in connection with the weather in the outdoor area to an interesting patination. The sound behavior is not affected by this. There are sound mobiles in these variations.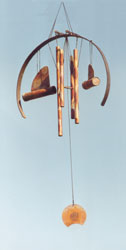 Wing
with the tones a', e", a",cis"'
.
.
.
.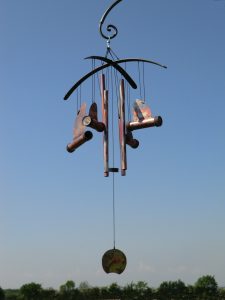 Chalice
in different triads
e.g. d' g' h' d" or e' gis' h' e"
.
.
.
.

Beep
c, cis'
d', dis'
e', f'
fis', g', gis'
a', b', h', c", cis"
d", dis", e", f", fis"
.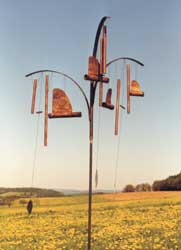 Soundtree
with the tones d', g', b', d", g", d"'
ELVES BELLS
Two triangular, bronze-tone phonograms, tuned to each other at an octave, are suspended in a way that allows the wind to gently beat them together. Fine, high, bright sounds spread a magical atmosphere.
e"' – c""
cis"" – c""'
ELVES HOUSE
A triangular bronze plate is hung in front of a resonator made of burnt, frost-resistant ceramic. When, moved by the wind, the metal plate and the hollow hollow body touch each other, a warm, sonorous sound is created.
d"-c"'
cis"' – a"'

SOUND FOUNTAIN
Water drips on 5 differently matched bronze plates suspended by resonators. A soft, quiet yet refreshing music sounds in different rhythms and melodies.
with the notes g, d', g', h', d"